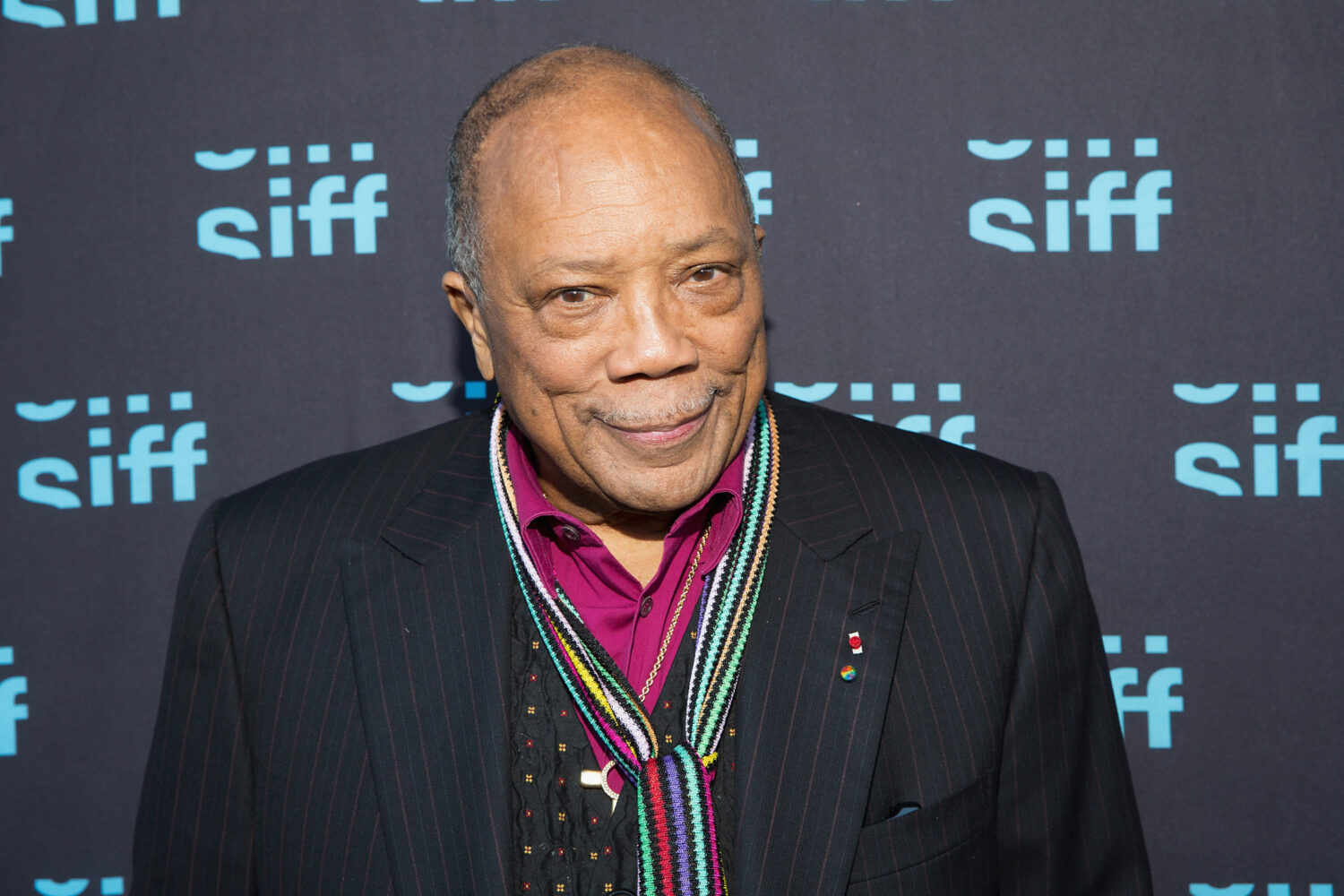 Quincy Jones's career has left an indelible mark on the genre of jazz and commercial music as a whole. His seven decades-long career is filled with numerous instances of him becoming the first to achieve one musical feat or the other. Jones is also among the most decorated musicians of all time, earning multiple awards across music and film. A force to be reckoned with, Jones's production discography has sold over 100 million units.
Jones made headlines days ago after he was rushed to the hospital due to an illness. However, the 90-year-old had a bad case of food poisoning and is recovering at home. In any case, Quincy Jones' legacy is a truly enviable one, and the icon is still proving strong. The Chicago native will always be one of the most influential musicians ever. 
Musical Beginnings 
Before building an untouchable career, Quincy Jones was a small-town aspiring musician in Chicago. After exhibiting a talent for music, he studied on a scholarship at the Schillinger House, now known as the Berkeley College of Music. It didn't take long for his talents to garner attention, which led him to encounter and work with musical greats like Frank Sinatra, Elvis Presley, and his inspiration, Ray Charles. He would later leave the United States for  Europe and eventually settled in Paris. While there, he began to study composition under Nadia Boulanger and Olivier Messiaen.
Quincy Jones' Breakthrough & Widespread Recognition 
Jones worked his way up for several years while working for Mercury Records. In 1961, he became the label's vice president and was the first African American in the position. During this time, he began composing music for major motion pictures. These movies include The Pawnbroker, Mirage, Cactus Flower, and The Italian Job. He ventured into composing for television as well, creating the theme music for several popular shows, including Sanford and Son and The Bill Cosby Show.
The late '70s and early '80s significantly boosted Quincy Jones's illustrious career. Jones and Michael Jackson worked together on the film The Wiz. This partnership led to Jones producing Jackson's next three albums: Off the Wall, Thriller, and Bad. All three albums would become some of the best-selling albums ever. Thriller, in particular, remains the best-selling album of all time. This trifecta made Quincy Jones the most sought after record producer in the '80s. 
Quincy Jones' career took another shift, and he began to produce films. His debut film as a producer was The Color Purple, which became a cultural phenomenon. In 1985, he also used his status to reel in many notable musicians for the iconic song "We Are the World." The star-studded single was produced by Jones, written by Michael Jackson and Lionel Richie, and was recorded to raise money for the victims of famine in Ethiopia. "We Are the World" is one of the best-selling singles of all time. 
Other Ventures
Quincy Jones has also become widely admired for his many activist and philanthropic efforts. He is a co-founder of the Institute for Black American Music. Jones is also the founder of the nonprofit Quincy Jones Listen Up Foundation, which connects youths with technology and music. An active supporter of many charities, Jones famously saved the homes and properties of elderly jazz musicians affected by Hurricane Katrina. 
Quincy Jones' Personal Life & Legacy
Jones has been married three times and has seven children. His most famous kids are his daughters, Kidada and Rashida Jones, whom he shared with the late actress Peggy Lipton. Kidada started her career as a celebrity stylist and now works as a designer for The Walt Disney Company. On the other hand, Rashida has starred in numerous films and TV shows, particularly The Office and Parks and Recreation. The music icon's first and only son, also named Quincy Jones, followed his career as a music producer, while his youngest daughter, Kenya Jones, is a fashion model. 
Over his 70-year career, Quincy Jones has received widespread acclaim for his work as a composer, producer, and arranger. With 28 Grammy wins, he is the most awarded African American man and the third person overall, behind Beyoncé and Georg Solti. He has received 80 nominations, making him the fourth most nominated musician at the ceremony. He was awarded the Grammy Legend Award in 1992. His life and achievements were showcased in the documentary Quincy.
In 2021, Jones was inducted into the Black Music & Entertainment Walk of Fame. He was the first ever African American to be the musical director of the Academy Awards. In addition to this, he was the first African American to receive the Jean Hersholt Humanitarian Award. He has been nominated for seven Oscars and is inducted into the Rock & Roll Hall of Fame. In addition to these, he has also won an Emmy and a Tony Award.
[via]