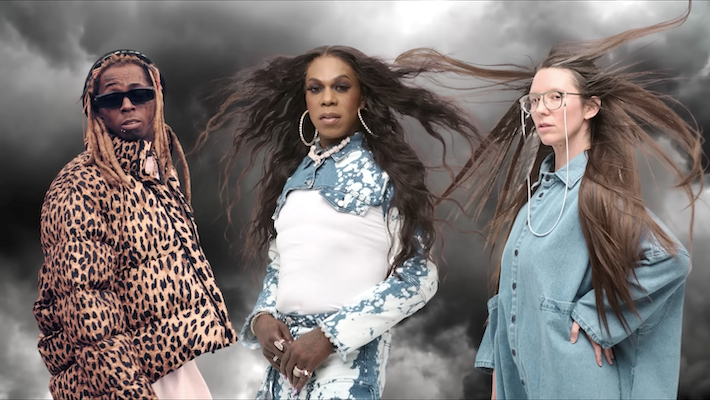 Two New Orleans legends link up to bring the rain with "El Niño," a new track that sees Louisianans Lil Wayne and Big Freedia collaborating with Memphis multidisciplinarian Boyfriend for a triumphant celebration of survival. This is pretty much right up Big Freedia's alley as a self-described gender-nonconforming, fluid, nonbinary drag queen from the home of Hurricane Katrina in the midst of the American Right's collective campaign of attempted genocide of the queer community.
It also marks the first official collaboration between Freedia and Wayne, despite their shared roots. Wayne sampled Freedia on a 2003 mixtape and booked her for his Weezyana Festival in 2015, but this is the first time they've actually teamed up on a record. And while it would have been cool if it was a bounce track (both rappers have used the regional sound as a basis for some of their biggest hits), the throwback trap style actually makes it a cool departure for Freedia and a return to form for Wayne that underscores the import of the collaboration.
Meanwhile, Boyfriend is a frequent collaborator of Freedia's who adds another perspective. In a press release, Freedia said, "El Niño' is about going hard in any storms that come in your life and conquering them! It's one of my favorite songs on this record, it features my longtime collaborator Boyfriend, and it's also my first collab with Lil Wayne, who I've wanted to work with for a long time. We put it down for our city, and this song is gonna have everyone blowin down!"
The track will appear on Freedia's new album Central City, which is due this Friday, June 23. Listen to "El Niño" above.