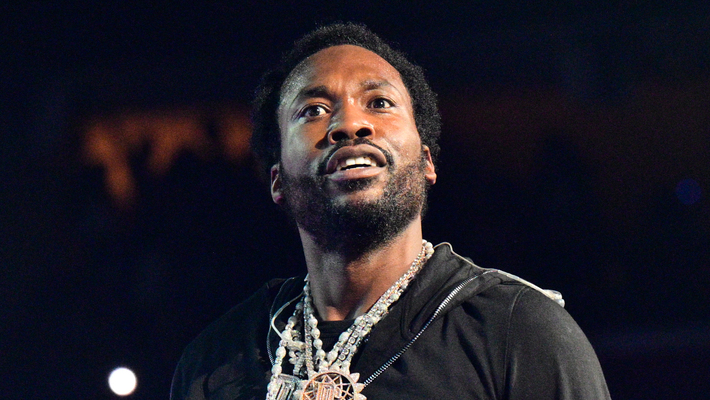 Meek Mill recently used his Twitter account to share a confounding AI-generated rap about his father and perpetuate his beef with DJ Drama. So it was only a matter of time before the social media addict chimed in on the missing Titanic submersible in the North Atlantic, as reported by The New York Times.
"I can't see a wealthy man doing this with no extreme back up plans….with your son, not saying it's fake but the way y'all run the same clips in media not even working on the average minds anymore," Meek tweeted on Wednesday, June 21, in response to an unverified update that the submersible had "less than 22 hours of oxygen left" for passengers trapped inside. "All types of stuff going on in the world y'all headlining with no real info lol"
According to CNN's ongoing live update, the OceanGate Expeditions vessel lost contact with its support ship, Polar Prince, while descending two hours to the wreckage site of the Titanic on the morning of Sunday, June 18.
There is still mystery surrounding the what, how, and why of the incident, but CNN relayed what little information has been confirmed:
"The submersible, known as 'Titan,' begins each trip with 96 hours of life support and has been missing since Sunday, setting up Thursday morning as a key target for finding the vessel and those on board.

"The US Coast Guard rerouted some of its equipment to try to pinpoint banging sounds heard during the aerial search Tuesday and Wednesday morning in the remote North Atlantic area. Though it didn't yield any results, the sonar devices from the Canadian P-3 aircraft are being analyzed by the US Navy, officials said Wednesday."
British billionaire Hamish Harding is one of the passengers on the vehicle, and news began circulating that his stepson, Brian Szasz, attended a recent Blink-182 concert. Earlier Wednesday, Cardi B was perplexed as to why Szasz would do such a thing while his stepfather was missing. Szasz slung insults Cardi's way in response to the criticism in since-deleted tweets.
See reactions to Meek's skepticism below.
Some artists covered here are Warner Music artists. Uproxx is an independent subsidiary of Warner Music Group.