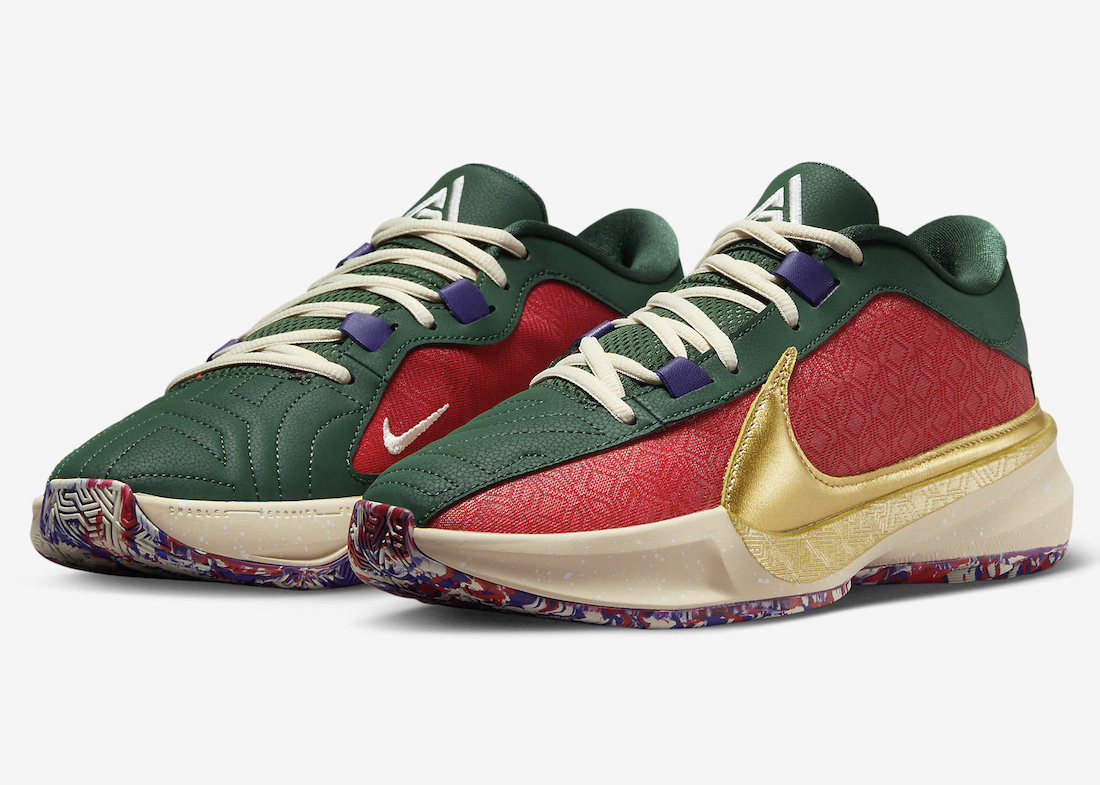 The Nike Zoom Freak 5 is a basketball shoe designed for Giannis Antetokounmpo. It features responsive Zoom Air cushioning for optimal comfort and energy return. The shoe's durable construction and traction pattern provide excellent grip and stability during quick movements. With its lightweight design and supportive fit, the Nike Zoom Freak 5 allows players to move swiftly and confidently. Whether driving to the hoop or making agile cuts, this shoe is built to enhance the player's game and maximize their potential.
Giannis Antetokounmpo, known as "The Greek Freak," has made a significant impact on the world of sneakers. His unique playing style and charismatic personality have captured the attention of fans worldwide. Nike recognized his immense potential and collaborated with him to create the Nike Zoom Freak line, with the Zoom Freak 5 being a standout model. With its emphasis on performance, versatility, and Giannis' ferocity, the Nike Zoom Freak 5 represents his influence on the sneaker industry and serves as a testament to his exceptional basketball journey.
Read More: Giannis Antetokounmpo Net Worth 2023: NBA Star's Wealth
"Keep It A Buck" Nike Zoom Freak 5
This sneaker definitely features a pretty loud colorway. The sneaker features a very interesting outsole that is a red, white, and blue marbled design. The upper of the sneaker features a cream midsole and a red and green upper, with the green paying homage to the Milwaukee Bucks. Also, a large golden Swoosh extends into the midsole and the sneaker also features purple lace details. The Giannis Antetokounmpo logo can be found on both the tongue and on the insoles of the sneaker.
More Photos
Sneaker Bar Detroit reports that this Nike Zoom Freak 5 is releasing at some point in 2023. Also, the sneaker will have a retail price of $140 when it releases. Further, make sure to let us know what you think about these kicks in the comments below. Additionally, stay tuned to HNHH for the most recent updates and news from the sneaker community. We'll make sure to offer you the newest products from the most notable brands.
Read More: Shannon Sharpe On Giannis Antetokounmpo's Failure Comments
[Via]