It seems that Erica Banks has left 1501 Certified Entertainment. The Texas native, who signed with Carl Crawford's label in 2019, shared the news on social media.
Advertisement

Erica Banks joined 1501 Certified Entertainment in March 2019. She released her self-titled mixtape in 2020 and her album Diary of the Flow Queen in 2022 through the label.
However, Banks recently revealed on social media that she has parted ways with the Houston-based label. After teasing unreleased music, a social media user commented that she needs a new label, saying, "1501 don't know what they're doing!!" In response, Banks confirmed her departure by stating, "I'm not with them anymore."
It was noted that Banks released a single titled "Aint Got Time" produced by Corey Dennard in April, with 1501 Certified Entertainment listed as the distributor. However, it appears that Banks has since moved on from the label.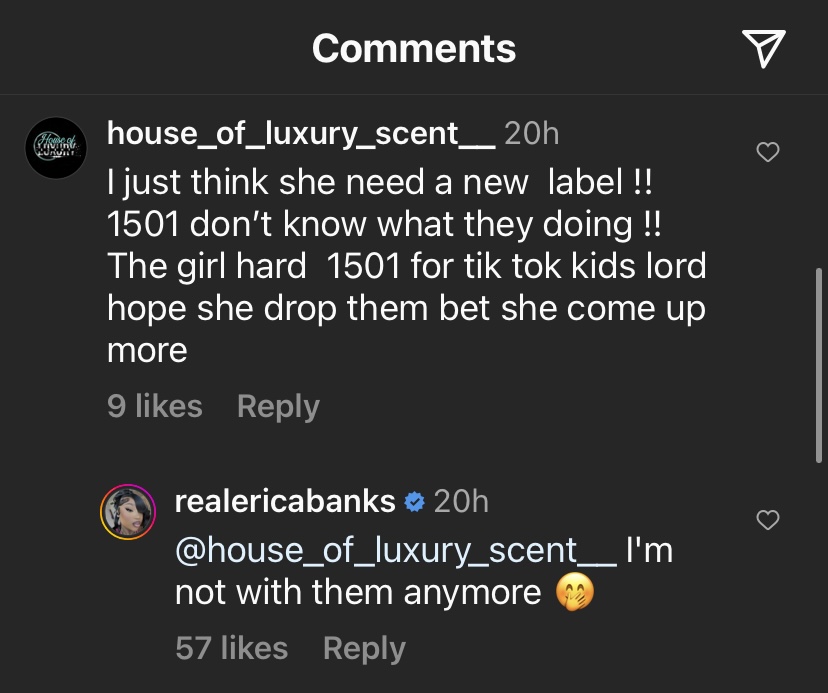 ##>
Has Erica Banks Left Warner Records Too?
In addition to 1501 Certified Entertainment, Erica Banks was also signed under Warner Records. However, as of now, Banks is not listed on the label's website, and Warner Records is not credited for the distribution of her single "Aint Got Time."
Carl Crawford, the founder of 1501 Certified Entertainment, expressed his excitement about signing Erica Banks to Warner Records in 2021. Notably, 1501 Certified Entertainment is known for introducing Megan Thee Stallion to the music industry, although Megan's relationship with the label turned sour due to contract issues.
Aside from her music career, Erica Banks also joined the cast of the reality television series Love & Hip Hop: Atlanta for its eleventh season. The latest episodes premiered on June 13. Banks expressed her excitement about being a part of the show and encouraged fans to tune in.