Halle Bailey joined Oprah Winfrey to begin promoting the upcoming film, The Color Purple, this week. In doing so, she rocked a blue suit and golden necklaces. "I love my glam today. We've got a lot of golden going on," she said in a post on social media from behind the scenes.
When The Jasmine Brand shared a picture from the event of Bailey and Winfrey posing together, fans took note of Bailey's apparent attempt to hide her stomach. The move comes amid rumors of her concealing a pregnancy with her boyfriend, DDG. "Lol she doing the Claire Huxtable poses on y'all! Some are too young to know what I'm talking about… Claire hid that baby bump throughout a whole season of the Cosby show," one user commented. Another wrote: "It's the way she's going through such great lengths to hide her stomach that's annoying lol…."
Read More: Halle Bailey Reflects On "Love" For DDG Influencing Her Upcoming EP
Halle Bailey Attends Glamour Women of The Year Awards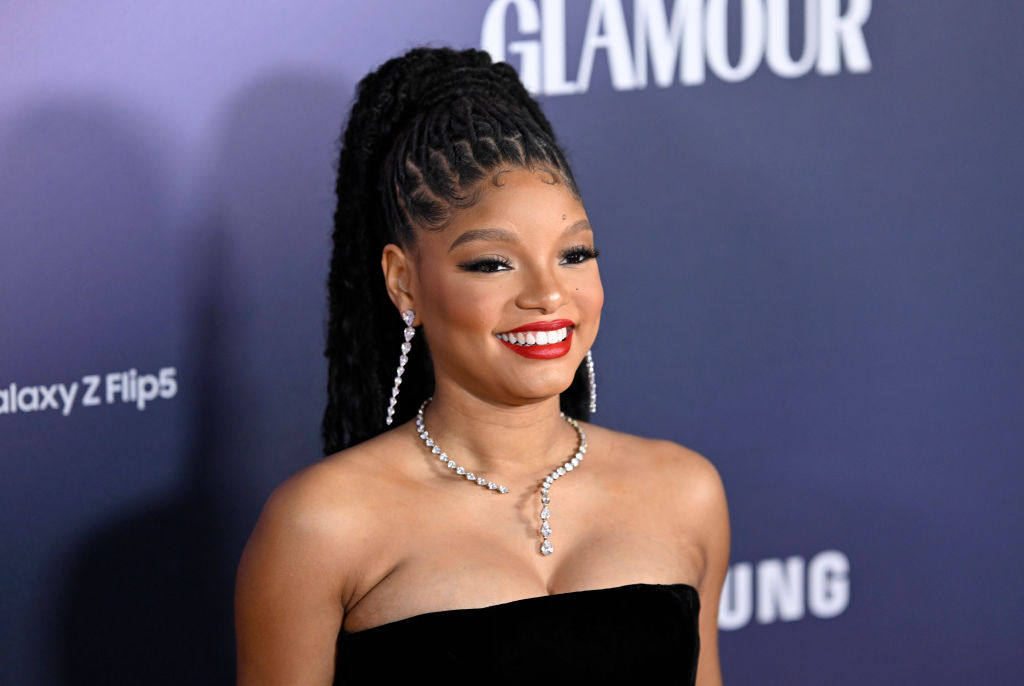 LONDON, ENGLAND – OCTOBER 17: Halle Bailey attends the Glamour Women of The Year Awards 2023 at One Marylebone on October 17, 2023 in London, England. (Photo by Gareth Cattermole/Getty Images)
The Color Purple will be Bailey's first film since The Little Mermaid. She recently reflected on the making of the second film adaptation of Alice Walker's Pulitzer Prize-winning novel during an interview with Cosmopolitan in October. "Set was like going to a cookout – it felt like a family reunion, honestly, like you're surrounded by your aunties and cousins," she said at the time. "I was just excited to be there as a fan of everyone. The movie is a labor of love. I mean, we all care so much about the original story and really wanted to do a good job with this reimagining." Check out her picture with Winfrey below.
Halle Bailey & Oprah Winfrey Promote "The Color Purple"
The film will be hitting theaters on December 25, 2023. Be on the lookout for further updates on Halle Bailey and The Color Purple on HotNewHipHop.
Read More: Taraji P. Henson Admits She Initially Ignored Oprah Winfrey's Call For "The Color Purple"
[Via]