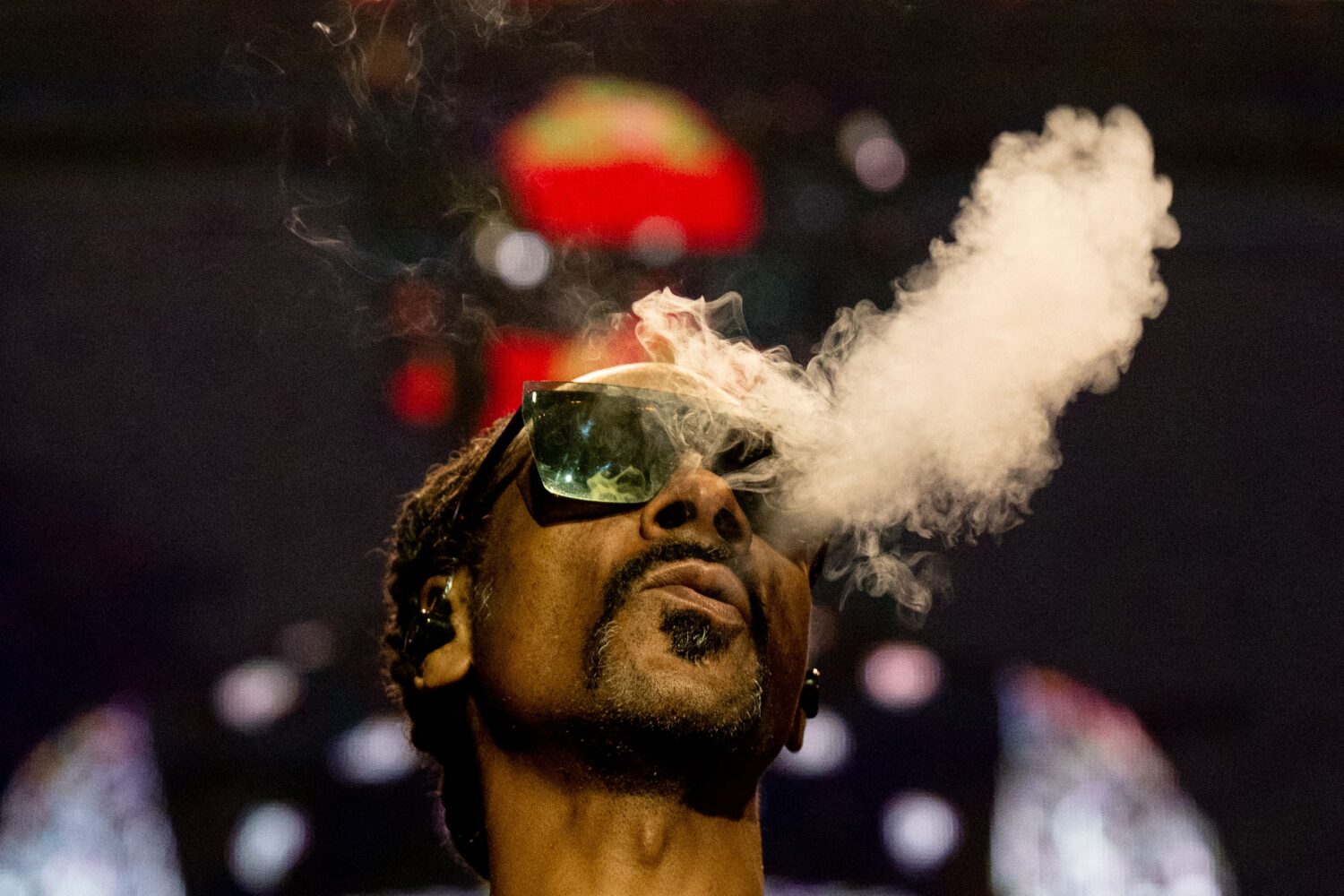 After teasing fans about quitting weed on Instagram, Snoop Dogg has revealed that his recent post was actually just a marketing ploy for a Solo Stove smokeless fire pit. In response to the announcement, fans took to social media to admit that the rapper pulled one over on them.
One user on Twitter posted: "snoop dogg had the whole world and stoners rethinking they life when he 'quit smoking' this mf was just doing an ad." Another wrote: "Snoop Dogg tricked all of us." When The Shade Room shared a compilation of reactions on Instagram, one user had a more series response: "That's sad because he really had people considering changing their lives. That was a great thing. Him smoking again should of never been public. Smh."
Read More: Snoop Dogg Relying On A "Natural High" Since Quitting Weed
Snoop Dogg Smokes On Stage In London
LONDON, ENGLAND – MARCH 21: Snoop Dogg performs at The O2 Arena on March 21, 2023 in London, England. (Photo by Simone Joyner/Getty Images)
As for Snoop's initial announcement, he captioned a photo of himself with the message: "After much consideration & conversation with my family, I've decided to give up smoke. Please respect my privacy at this time." On Monday, he revealed that it was simply part of a broader partnership. "I have an announcement: I'm giving up smoke," he said in a video. "I know what you thinking: 'Snoop, smoke is kinda your whole thing.' But I'm done with it. Done with the coughing and my clothes smelling all sticky-icky. I'm going smokeless." From there, he reveals the smokeless fire pit.
Fans React To Snoop's Announcement
In a press release from the company provided to CNN, they elaborated: "Solo Stove has since announced that Snoop Dogg will be their official 'smokesman,' in support of the company's quest to eliminate smoke from backyards everywhere." Be on the lookout for further updates on Snoog Dogg on HotNewHipHop.
Read More: Snoop Dogg's Decision To Stop Smoking Gets Perfect Response From Stephen A. Smith
[Via]